The world's largest and Asia's first offshore converter station - Three Gorges Rudong LMU products are delivered on time
---
Recently, the Hengxiang Science and Technology Plant in Hengshui Hi tech Zone opened four large semi trailers, carrying 12 "Blue Fairies" weighing more than 130 tons, and transported them to the project site in Nantong, Jiangsu Province. This is Hengxiang Technology's patented offshore product LMU, which is required for offshore wind power projects. 12 large transport vehicles carrying more than 300 tons of steel structures followed closely.
On July 14, 2020, Hengxiang Technology and Shanghai Zhenhua Heavy Industry (Group) signed the "LMU Procurement Contract for the Three Gorges Rudong Converter Station Project, which is the largest offshore converter station in the world and the first in Asia. Tian Jiande, chairman of Hengxiang Technology, Zhao Baoguang, marketing director, and Liu Baoquan, technical director attended the signing ceremony and set up a" military order "for design, production, and service - a military order like a mountain, which is bound to be reached!
"Big, Accurate, Capable and Strong" is the perfect interpretation of this project
The largest (first and largest) offshore converter station in the world and the first offshore converter station in Asia: The Three Gorges Rudong offshore converter station is an important part of the Three Gorges New Energy Company's Jiangsu Rudonghai Wind Power Project, which is constructed by Zhenhua Heavy Industry. It is responsible for gathering 1100 megawatts of power from three nearby wind farms, converting it into DC power with lower loss, and then transferring it to land through submarine cables.
Accurate (punctual and accurate) performance of contract materials on schedule: The company is fully aware of the importance of the project, organizes competent production and technical forces, and conducts targeted technical training and quality training for personnel participating in the project. The management is based on the "accurate production system". The lower level (lower level department) implements the "four hour standby system" for the upper level (higher level department), and replies to the received tasks within four hours. In case of unexpected failure to complete on time, Timely find the dispatcher to solve the problem and make every effort to ensure that the contract is delivered as scheduled.
Chairman Neng (ability, energy) led the team to the battle: In the face of national key projects with demanding technical requirements, Heng Xiang team faced the challenges directly, carried forward the Heng Xiang spirit of "unity, struggle, pragmatism, dedication, striving for excellence", and kept working day and night. Tian Jiande, chairman of the company, visited the site for many times to supervise, and production, design, inspection and other related personnel were responsible and always stuck to their posts, The leaders of the company strongly supported and cooperated with all departments to ensure that the contract was delivered on schedule.
Strong (strong, strong) technology and production strength: Hengxiang Technology actively develops new industries and new formats, and has strong scientific innovation ability, platform advantages, production and equipment facilities support. The company uses existing resources to actively participate in, cooperate with the development, promotion and application of new products and technologies, and promote the cross-border and upgrading of products. Offshore products have obtained more than 20 national patents and 1 international patent; Participated in many super large projects, such as the Wenchang Gas Field Platform in Nanhai, Bozhong Oil Platform and other projects, marking a solid step for our company to enter the marine equipment manufacturing industry.
Hengxiang Technology, which "invigorates enterprises through science and technology, and develops through innovation", makes products with ingenuity, precision and intelligence. Win the reputation of customers with integrity, win the trust of users with quality, show the characteristics of national enterprises with actions, give orders like mountains, keep promises and fulfill them, be brave to develop, keep forging ahead, and successfully complete the task.
[Logistics Progress]: On March 9, 2021, the first batch of steel structure parts will be delivered to the project site; On March 25, the shipment of the remaining steel structures, horizontal buffers, vertical buffers and accessories began. A total of 12 sets of steel structures were delivered on that day, and the remaining steel structures had been shipped before March 30.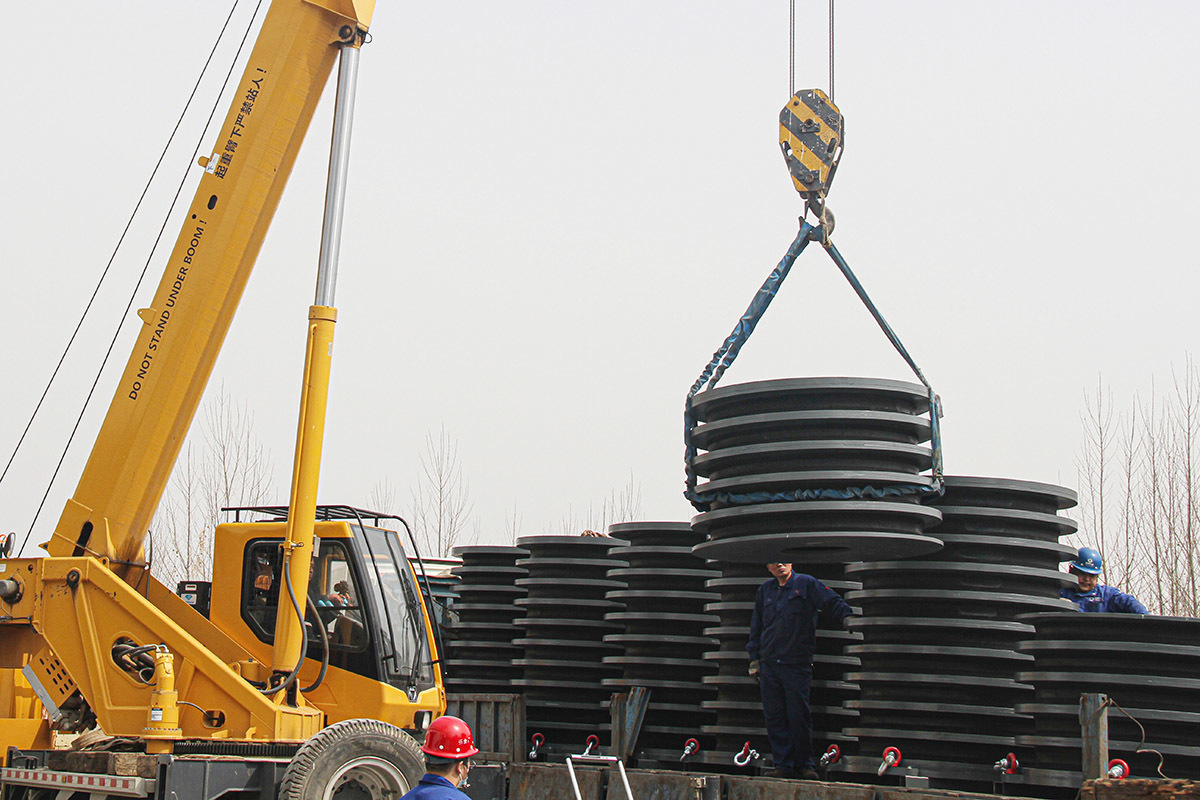 ---